Never Do Laundry Again with Calgary's best residential laundry service
Calgary Wash 'N Roll Laundry Service
because life is too short for laundry
"As you grow older, you'll find the only things you regret are the things you didn't do." – Zachary Scott
We get it. Life is busy, and it isn't showing any signs of slowing down. There are so many amazing experiences life has to offer, and we all agree that doing laundry isn't one of them. Wash'N Roll is Dolphin Dry Cleaner's premier residential laundry service in Calgary and area. Cleaning your daily-wear clothes, pyjamas, bed linens, towels, delicates, even your kids socks are all a part of this service. Just bring it to Dolphin and we'll give you a vacation from your laundry. We promise to take care of your clothes as if they are our own. We'll wash, roll and pack your clothes up for you. Best of all, it's one flat rate for as much as you can fit into one of our two sizes of Wash'N Roll bags!
It's Simple:
Fill a Wash'N Roll bag with your dirty household laundry.

Bring your bag to any Dolphin Cleaners location.
Pickup your clean, rolled laundry.
Choose from our standard 3 day service or exclusive rush next-day service. Call us today to get the best residential laundry service in Calgary.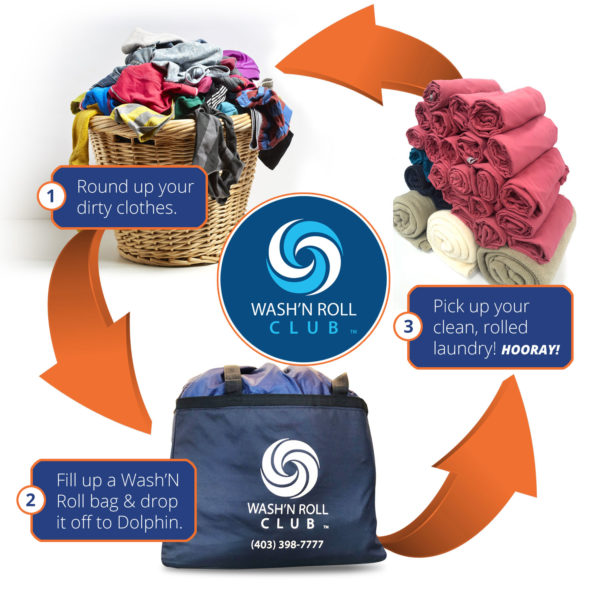 Our Heroes
In this difficult time Dolphin wants to recognize and support our front-line workers in healthcare and emergency services. We know that they have faced this storm head on, and work long hours under difficult circumstances. Their time is precious and we want to help them get some back. All front line workers can take advantage of our Wash 'N Roll – done for you laundry service for only $10 per bag. Visit any one of our locations for a bag to get started. Thank you from all of us here at  Dolphin.
We are regularly in your part of the city!