Never Do Laundry Again with Calgary's best residential laundry service
Calgary Wash 'N Roll Laundry Service
because life is too short for laundry
"As you grow older, you'll find the only things you regret are the things you didn't do." – Zachary Scott
We get it. Life is busy, and it isn't showing any signs of slowing down. There are so many amazing experiences life has to offer, and we all agree that doing laundry isn't one of them. Wash'N Roll is Dolphin Dry Cleaner's premier residential laundry service in Calgary and area. Cleaning your daily-wear clothes, pyjamas, bed linens, towels, delicates, even your kids socks are all a part of this service. Just bring it to Dolphin and we'll give you a vacation from your laundry. We promise to take care of your clothes as if they are our own. We'll wash, roll and pack your clothes up for you. Best of all, it's one flat rate for as much as you can fit into one of our two sizes of Wash'N Roll bags!
It's Simple:
Fill a Wash'N Roll bag with your dirty household laundry.

Bring your bag to any Dolphin Cleaners location.
Pickup your clean, rolled laundry.
Choose from our standard 3 day service or exclusive  same day and next-day RUSH service. Call us today to get the best residential laundry service in Calgary.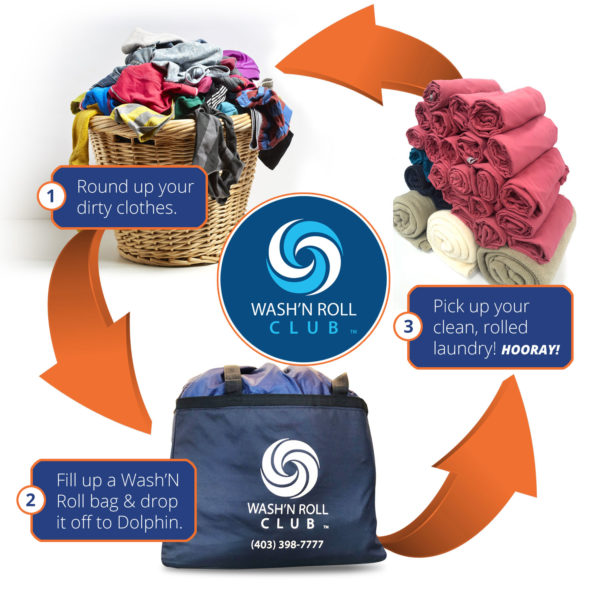 Humanity First
Dolphin Dry Cleaners has proudly partnered with Humanity First to deliver warmth to those who need it most this winter.  Just drop off any of your gently used winter clothing including jackets, mitts, gloves, snow pants or scarves at one of our seven locations in Calgary,  and our highly skilled cleaning team will take the time to Dry Clean and prepare the item for delivery directly to those in need.
We are regularly in your part of the city!