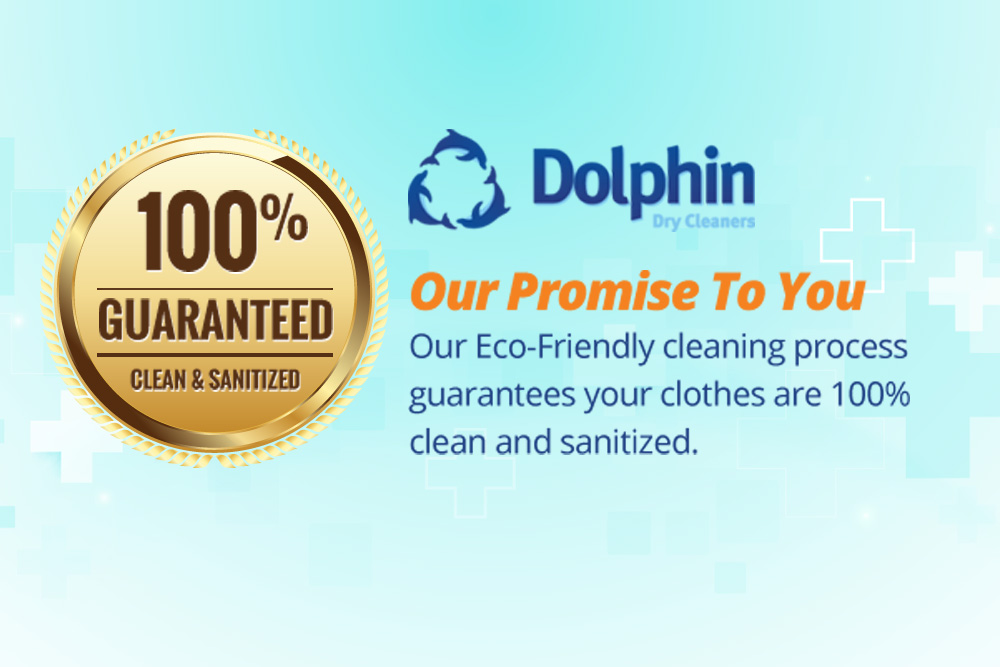 What You Get
At Dolphin Dry Cleaners, you get a team of passionate experts dedicated to quality, service and the environment. Whether it's taking care of your fine clothes with our eco-friendly Dry Cleaning service, or giving you back your time with our Wash 'N Roll residential laundry offers we are with you every step of the way. With competitive pricing, free pickup and delivery and seven convenient Calgary locations to serve you, we invite you to experience the Dolphin Difference. 
Calgary's best Eco-Friendly Dry Cleaner. We take great pride in providing service and quality that is second to none. From our attention to detail with every garment we clean, to our promise of 100% clean and sanitized,  you can be sure when you trust your fine clothes with Dolphin, that they will be treated as if they were our own. We want to give our customers confidence with every order. We examine each article of clothing we receive and select the best process for that garment.
When we tell you that you can really "Never Do Laundry Again" we mean it. We want to give you back your time to do things you enjoy doing, and leave the tedious work of laundry to us. With Calgary's best done for you residential laundry service it's as easy as dropping off your bag of clothes and getting back freshly washed and rolled clothes to put away. Fill the bag up and pay one price per bag. Once you try this service you'll wonder how you lived without it.
 When it's time to rest your weary head, your bedding and comforter are the best things in life. When it comes time to clean them, you need to trust in professionals with the experience and skills to take care of these items for you. Dry cleaning is the best way to ensure your comforter is fresh and clean to help maximize restful sleep. Keeping your bedding and comforters clean can minimize allergens and as they say – sleep tight and don't let the bedbugs bite. (Our cleaning process removes 100% of all bio-contaminants.)
Seasonal cleaning of your coats is important to extend the life of these important clothes. Winter coats take a lot of abuse in our harsh climate, and our cleaning adds years of life and vitality to the coats.  Your leather and suede will last longer and look fresher with our speciality garment service and solutions designed to remove soil and stains while replenishing the natural oils lost over time. While we take every precaution, some leathers may respond to the cleansing process with minor shrinkage or variance in colour vibrance.
Go ahead and get your dress dirty! We have you covered. Your gown represents moments from the best day of your life and deserves special attention to preserve those memories.  Whether it is to remove any soil, food, or prepare for storage, dry cleaning as soon as possible will ensure stains will not set in or oxidize. We will evaluate your wedding dress beforehand, consult with you and provide a cleaning recommendation and price. Leaving your dress with DOLPHIN means it will receive professional and detailed attention, renewing the colour, extending its lifespan, and preparing it for proper storage.
Did you know that Dolphin has some of the best tailor's in Calgary?
Our expert tailoring service will make your clothes look and feel like new again with the right fit and an invisible repair.
We offer in-store clothing alterations service to adjust, re-style or repair clothing including, but not limited to:
Removing/replacing buttons

Hemming

Elbow patches

Narrowing lapels

Resizing
Get in touch today to see how Dolphin can help bring new life to your favourite garments. 
Are you a Calgary area Hotel, gym, spa or commercial office? Dolphin Cleaners offers customized concierge Dry Cleaning and laundry services for your business. Competitive pricing, flexible schedules and complimentary pickup and delivery means convenience and quality for you and your customers. Trust Calgary's best Eco-Friendly drycleaning for your commercial cleaning needs. We can't wait to get started! 
Our customers mean everything to us. We can't wait to chat with you.